Commodity Collapse
December 23, 2014
We've learned something in 2014. Commodity investing is dead. Long live the information economy. Oh, real assets, we hardly knew ye!
2014 will be known as the year that commodities, after staging a noble comeback from the depths of the 2008 commodities crash, crashed anew. Take oil, which crawled back to around $100 a barrel, only to drop to its current price of about $60 a barrel.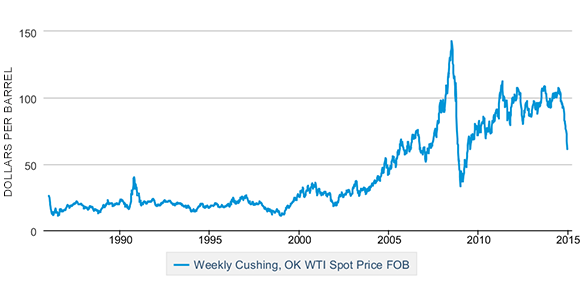 There are several reasons for oil's precipitous drop. Oil production in North America is sky-high. OPEC won't cut production. Russia needs all the revenue it can get. The financial machine can always point to sound economic reasons as the chief suspects, but the real reason is this: too much money opted to "invest" in commodities over the past decade-plus.
The first sign that this year would be the end of commodities' half-baked rebound was when funds that short commodities began closing due to lack of investor interest — specifically, PIMCO CommoditiesPLUS Short Strategy Fund Instl (PCPIX), a fund with the seemingly sound strategy of investing cash in bonds (PIMCO style) and shorting commodities with futures.
We owned this one in client accounts, and were disappointed when PIMCO announced it would close in 2014 with just a few million in assets (much of it, ours…) The commodities fund PIMCO didn't close, PIMCO CommoditiesPLUS Strategy Fund Instl (PCLIX), still banks over $6 billion in assets and sports a 23% loss in 2014 by being long in commodities. PCPIX would have been up about as much as PCLIX is down had it not been liquidated.
We noted the beginning of this particular boom-to-bust cycle back in mid-2002, when American Century Global Natural Resources (BGRIX) – a fine, inexpensive fund we held in our then-model portfolio, was closed for lack of investor interest.
That marked the beginning of the long fall of the U.S. dollar and the rise of commodities. For the next five years – until crash Numero Uno in commodities – natural resource funds (which invest in commodity-heavy businesses) regularly delivered 30% returns PER YEAR.
Performance-chasing money eventually flowed big-time into these and more direct-play commodities funds. One of the oldest and best, T. Rowe Price New Era (PRNEX), still has $3.9 billion in assets, despite underperforming the S&P 500 by a wide margin since 2007. Investors haven't given up yet.
But don't worry. They will. To misquote comedian Chris Rock, "That train always arrives on time." And when assets in those funds plunge, and commodities funds begin closing, we'll have opportunities for good returns anew. We may never get the story of American Declinism and inflation panic to drive commodities this high again, but who knows? Gold almost got back to the inflation adjusted 1980 bubble prices in 2011 before the shiny metal started its slow but steady decline.